Bhavishya Purana or Bhavishyat Puran (Hindi) PDF Free Download. Free download of many books PDF On this website. We will also provide you Hardcover and Paperback Of Ebooks.
---
Information Bhavishya Purana (Hindi)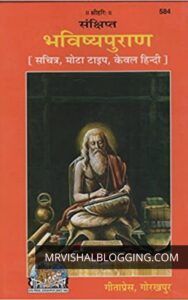 The Bhavishya Purana ("Future Purana") is one of the eighteen major works in the Purana genre of Hinduism, written in Sanskrit. The title Bhavishya means "future" and implies it is a work that contains prophecies regarding the future, however, the "prophecy" parts of the extant manuscripts are a modern era addition and hence not an integral part of the Bhavishya Purana. Those sections of the surviving manuscripts that are dated to be older are partly borrowed from other Indian texts such as Brihat Samhita and Shamba Purana.
भविष्य पुराण हिंदी पीडीऍफ़ डाउनलोड. भविष्य पुराण संस्कृत में लिखित हिंदू धर्म की पुराण शैली में अठारह प्रमुख कार्यों में से एक है। भविष्य शीर्षक का अर्थ है "भविष्य" और इसका अर्थ है कि यह एक ऐसा काम है जिसमें भविष्य के बारे में भविष्यवाणियां शामिल हैं, हालांकि, मौजूदा पांडुलिपियों के "भविष्यवाणी" भाग एक आधुनिक युग के अतिरिक्त हैं और इसलिए भविष्य पुराण का एक अभिन्न अंग नहीं है। जीवित पांडुलिपियों के वे खंड जो पुराने हैं, आंशिक रूप से अन्य भारतीय ग्रंथों जैसे बृहत संहिता और शंबा पुराण से लिए गए हैं।
---
Bhavishya Purana (Hindi) PDF Free Download
| | |
| --- | --- |
| Author: | Puran |
| Language: | Hindi |
| Pages: | 448 |
| Size: | 26.8 MB |
| Link: | Download |
---
I hope you loved this "Bhavishya Purana (Hindi) PDF Free Download".
---
If you have any problem regarding this article report us here. Click.
---
---